The Time Lady
JANE BARBE



Jane Barbe, 74, voice heard round the world
On July 18, 2003 Jane Barbe passed away. For forty years, millions of people every day heard her voice, used by telephone companies around the world. Jane's pre-recorded voice told callers the time, temperature and weather; horoscopes; and messages like 'the number dialed is unavailable'. She also prompted them when retrieving their voicemail and gave hotel wake up calls.
The voice heard by millions
Uncovering the Merchants Time Lady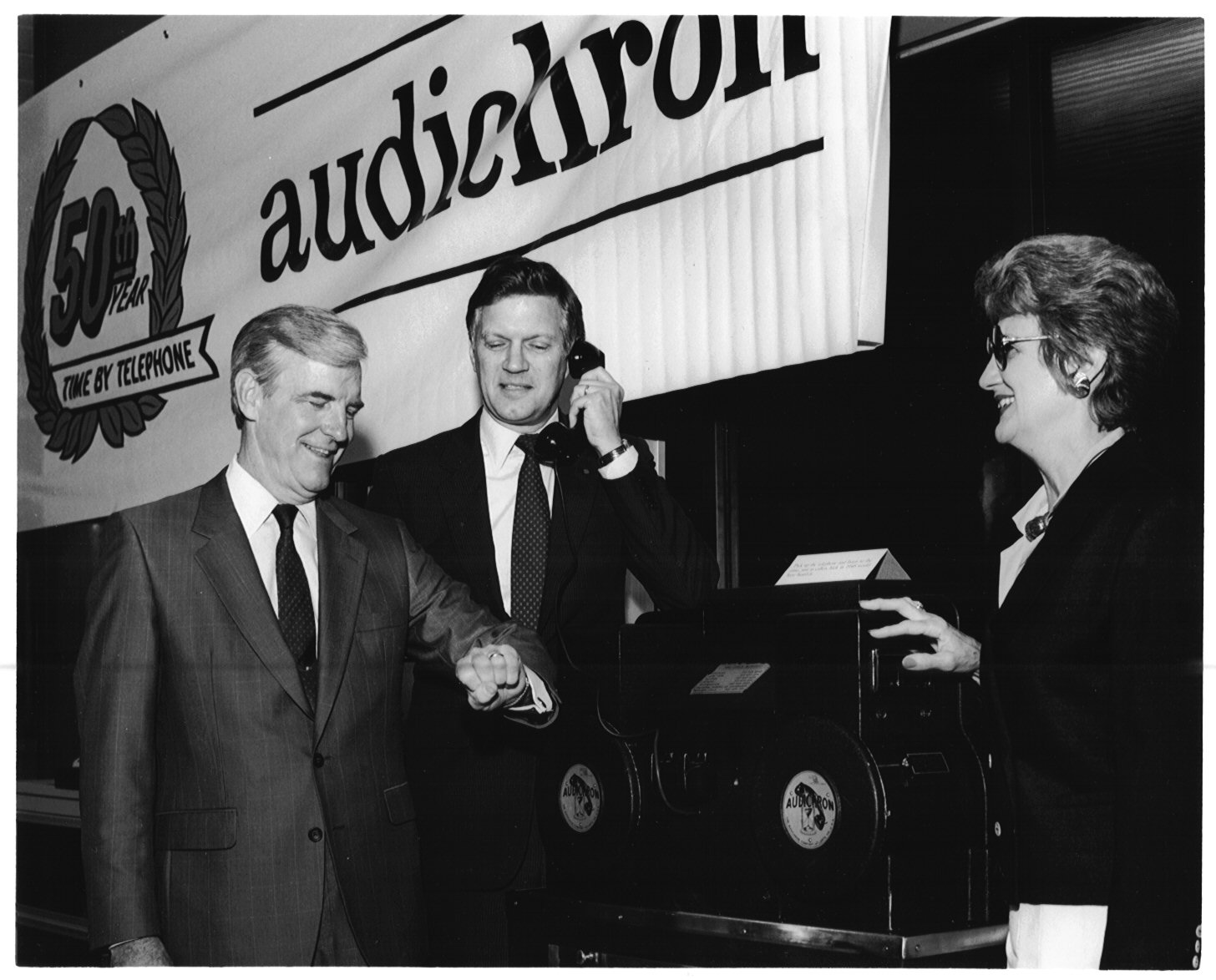 Jane Barbe has one of the most recognizable voices in the world. Speaking to over 20 million people a day, she is known as the voice of ETC's Audichron time, temperature, weather announcers and intercept systems.
Jane started making professional announcements for the Audichron Company in Atlanta, Georgia (acquired by ETC in 1989) in the mid 1960s. Her friendly voice announced the time, temperature and weather, as well as personalized announcements for financial institutions, telephone companies and other time-temperature-weather sponsors. For the 1970s and 1980s recordings of Jane informed telephone callers when a certain number was disconnected or no longer in service. In addition, Jane's voice is heard on the National Bureau of Standard's Time Signal and on many hotel wake-up systems.
Originally from Florida, Jane grew up in Atlanta, Georgia where she now resides with her husband John. She has two children, Susan and David, and is also a proud grandmother. She received a Bachelor of Fine Arts from the University of Georgia. She served as president of the Delta Delta Delta sorority, as well as being active in many other campus events.
Jane and John met while on tour with the Buddy Morrow Orchestra. Jane was the featured singer, and John was the road manager, musical director, and band member. They went into business creating and producing music for commercials and industrial films and shows. Jane's voice has been featured in many commercial jingles.
In addition to her work in broadcast advertising, Jane appeared on The Mike Douglas Show, I've Got a Secret, CBS News and Real People as the "Time Lady". She also starred in a Shake 'n Bake commercial.
Despite her busy schedule, Jane still finds time for her own private interests which include singing, writing, oil painting, interior decorating and her family.
Jane is delighted that people are interested in knowing who the familiar voice is on the other end of the telephone line.
Jane retired in February 2003. Click here to read the story: ETC Bids Farewell to the Time Lady.