Solid-state technology
Phased system answers on the first ring
Day/date in addition to time and temperature
Automatic adjustment for Daylight Savings Time
Temperature announcement in Fahrenheit and/or Celsius
Weather forecasts by professional meteorologists
Local recording of messages
Multiple advertising messages that rotate in a sequence of play
Professional recording services available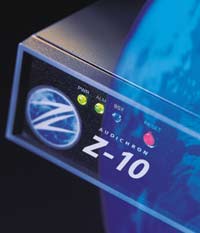 Audichron Z-10, ETC's newest time-temperature-weather announcer, continues a 60-year tradition of successful marketing solutions for your business. While providing service to your community, Audichron Z-10 is an effective and inexpensive advertising, promotional, and public relations tool.

Geographically Select Audience
Easily reach your target audience. Spend dollars on potential customers, rather than those outside your area of influence.

One-on-One Contact
Get one-on-one contact since callers hear a specific ad message every time they call. Compare this with other more costly, less effective media.

Receptive Listeners
Reach a receptive, attentive audience. Your prospective customer decides to dial your service and listen intently to what you have to say. No other media offers this strategic advantage.

Flexibility in Messaging
Tailor advertising messages to current events and up-to-date promotions. Change messages as often as you wish.

Public Recognition
Gain recognition as a caring corporation and build community good will.

Call Statistics
Determine how many people heard your advertising message through monthly reports that are electronically tabulated.